Social Performance in Extractives: Masterclass 2017

Date: 28th - 30th March, 2017
Location: The University of Queensland, St Lucia Campus, Brisbane. Australia
Presenters: Dr Chris Anderson
Host: Associate Professor Nick Bainton, Centre for Social Responsibility in Mining (CSRM)
Course cost: AUD $3,300 per participant (incl. GST)
SPECIAL rates: AUD $1,980 for civil society/NGO participants, and AUD $990 for students (incl. GST)
Includes: Course notes, morning/afternoon tea and lunch
---
About the course
The course is designed for anyone in the extractive industries interested in improving the social performance of their projects and operations, or for those preparing for a career in this field. You will walk away from the course with a better understanding of why so many extractive projects have major social and political problems and how this costs the business, a knowledge of global good practice through select case studies and a set of tools for practical implementation.
Day One presents a 'big picture' view of the business imperatives around social performance and the evidence and rationale for doing well in this domain. Also covered will be the global political, legal and social contexts in which extractive projects now operate, and the trends emerging for dealing with these changes. Days Two and Three will present content aimed at general managers and project managers, as well as practitioners of social performance.
Sessions
Day One
This day presents the big-picture understanding of how the world for extractive business has changed and how we need to react to this.
Are you ready for the community to determine the fate of your extractive investment? Outcomes can be delays in projects, cost overruns, more expensive capital finance, reputational damage and even a total veto, perhaps supported by violent protests. We will discuss some case studies, among many potential ones, of what can go wrong and the costs. What are the big issues? What is the legal (hard and soft) situation regarding the requirements on extractive projects now? What do NGOs want? The approaches to community by mining and oil & gas are now converging. What can we learn from each other? What are the basic concepts that are useful to your business (or your career) in the area of social performance?
Days Two and Three
These two days are more tactical, and consider some of the key operational challenges:
Are you taking the risks presented by communities seriously? What are the key concepts relating to good social performance? What is required of leadership for success? What about on-the-ground at site or business unit level? How are you planning to respond to the inevitable advancement of high impact concepts such as Free, Prior and Informed Consent? Are the commodity downturn and reduced revenues sufficient excuses to ignore good social performance? How about high risk, complicated and expensive processes such as resettlement? How will you manage difficult governments?
We look at solutions here:
What has worked in the extractive sectors?
Case studies and good practice examples will be presented including on stakeholder engagement, agreement-making, grievance management, monitoring and reporting, local procurement, social investment, integrating social performance into your operation and the benefits of partnerships.
Good social performance in extractive industries is no longer about the 'soft side' of donations, sponsorships or community development contributions. It should be approached with the same professionalism and rigor as the engineering, finance or geology aspects. This course will focus on how this can be done.
About Dr Chris Anderson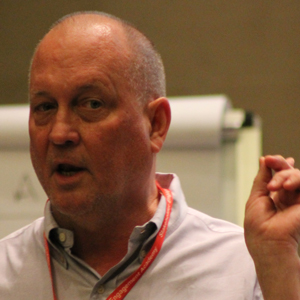 Dr. Chris Anderson is one of the extractive world's leading communities and social performance practitioners, working on some of the most difficult mining projects with seemingly intractable community issues. He has worked at both a corporate policy level and on the ground at sites in more than two dozen countries on four continents. He is also a member of the Colorado School of Mines, Engineering Department's Industry Advisory Council, as well as the SMI People Centres Advisory Group.
His original training is as a social anthropologist at the University of Queensland where he taught Anthropology and gained a PhD based on fieldwork with Aboriginal people in Far North Queensland. He subsequently worked for some twenty years with Indigenous and tribal peoples and then eighteen years in senior executive roles with Normandy Mining, Newmont Mining and Rio Tinto.
Anderson has been an active participant for many years in the global extractive industry and its engagement with society, including key roles in the International Council on Mining & Metals, the Extractive Industries Transparency Initiative, the Open Contracting Partnership, the Interlaken Group and others. He has had long teaching and research associations with universities: he is an Adjunct Professor in Social Sciences and in the SMI at the University of Queensland, was UQ Alumnus of the Year in 2013 and is a Research Associate at the Colorado School of Mines in Denver. He is a gifted and lively speaker and a prolific writer. You can see more of his work at www.yirri.global.
This course has been taught at the Colorado School of Mines. Testimonials include:
"I have learned more in these three days than in my eight months in the mining industry."
"Strength was the variety of topics, extremely engaging, wonderful group of varying experiences."
"The instructor was a perfect mix of industry expertise and academic background."
"Very valuable and broad; good examples from a variety of contexts."
"Great to have such a vast list of resources to utilize."
"I was thrilled with the overall course."