Guide to Good Practices in Indigenous Employment, Training & Enterprise Development. Report to BG Group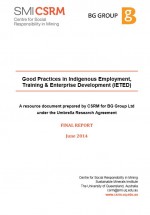 Download PDF
Published by: CSRM
This project involved a review and synthesis of the literature on good practices in IETED. The data is drawn primarily from previous research undertaken by CSRM, including the Centre's work with QGC, BG Group's Australian coal seam gas business. The aim of the research was to extend existing knowledge on IETED by:
• Determining how best to apply current knowledge to the gas sector
• Providing specifics on how to implement good practices in the gas sector
• Identifying considerations that would be specific to different country contexts.
CITATION
Barclay, M.A., Parmenter, J. & Barnes, R. (2014) Guide to Good Practices in Indigenous Employment, Training & Enterprise Development. Report to BG Group, CSRM: Brisbane.