Indigenous Employment in the Australian Minerals Industry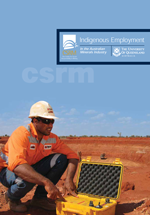 Download PDF
Published by: CSRM
This ground-breaking Guide summarises a two-year study of Indigenous employment in the Australian minerals industry, which aimed to assist companies and operations improve their capacity to attract, retain and develop Indigenous employees.
Sponsored by Rio Tinto, the project was conducted under the auspices of the Minerals Council of Australia's Social Policy Taskforce. It also resulted in the production of an associated evaluation tool which ahs been applied by a range of industry organisations.
CITATION
Tiplady, T. & Barclay, MA. 2007. Indigenous Employment in the Australian Minerals Industry. CSRM.