Women in Australian Mining 1997 to 2013 - A Generation of Change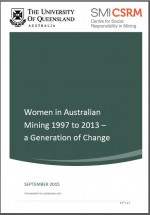 Download PDF
Published by: CSRM
This report draws heavily on the Women in Mining Longitudinal study which tracked, and reinterviewed, forty-one women and men who participated in the 1997 Women in Mining study by the Australian Institute of Mining and Metallurgy (AusIMM) (Pattenden, 1998). The Longitudinal study was funded under the Australian Research Council Linkage Grant Scheme, with the support of six industry partners: Queensland Resources Council; Minerals Council of Australia, The Australasian Institute of Mining and Metallurgy, Rio Tinto; BHP Billiton; Glencore Copper (formerly Xstrata Copper). The intention of the study was to explore the shifting conditions and experience of gender diversity in the mining industry and the changes that have taken place over the 15 years since the 1997 report.
Mining is a cyclical industry characterised by peaks and troughs driven by commodity cycles, market conditions, and the finite nature of ore bodies. The 15 years between 1997 and 2012 have seen the extremes of these cycles: from the lows of the late 1990s, through the hyper-development of the commodities super-cycle which drove industry expansion at an unprecedented scale, and now back to trough conditions.
Fifteen years also represents a generation in career terms. Technical professionals who were at entry-level in 1997, and who have remained in the industry, might realistically by now be expected to have reached mid-tier or even executive-levels, particularly given the accelerated career opportunities and impetus of the super-cycle.
The key questions which drove this research project were: What became of the careers of the 1997 cohort? What themes come through their career narratives that point to change, or lack of change, in the diversity profile of the industry? And what can we learn from the last 15 years that point towards future actions to help sustain women's participation as the industry enters a period of contraction?
The study utilised longitudinal career data drawn from 41 tracked participants from the 1997 cohort, supplemented by a workforce survey, and analysis of aggregate trends over time in female participation in the mining industry.
CITATION
Pattenden, C.A. and D. Brereton, (2015) Women in Australian Mining 1997 to 2013 – a generation of change. The University of Queensland: Brisbane, Australia.