Research Initiatives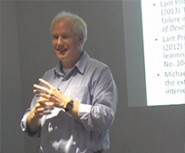 Building Capability for Implementation: The Role (and Limits) of Problem-Driven Iterative Adaptation (PDIA)
Presented by Michael Woolcock,
View video
View all CSRM Videos
Upcoming events
SMI Research Higher Degree Conference 2016
Friday, 11 November 2016 - Friday, November 11, 2016

The aim of the conference is to provide students with the opportunity to hone their presentation skills and interact with industry professionals.
---
Responsible Resource Development Postgraduate Program 2016
Tuesday, 01 March 2016 - Friday, December 30, 2016

The rapidly changing extractive resources sector requires flexible, multi-disciplinary, and future focused employees. The Responsible Resource Development program grounds students in the sustainable development agenda.
---